Viewing from a mobile device?
Contact Your Electrical Experts
At Clarke Electric we welcome all of your requests and questions. Please use the form below to contact us with general questions, to schedule an estimate, or to schedule a repair. We will be in touch soon!
Important: If you are without power or feel that you have an electrical emergency please CALL…DO NOT EMAIL YOUR REQUEST!
Schedule An In-Home Estimate
You can request quote via phone or email. Whatever method is the most convenient, we will be sure to respond to you right away. To request a quote via email, simply fill in the requested information below, and submit. We will then contact you. If you would prefer to contact us face to face, please contact us first to set an appointment, as we are usually on a job site servicing other customers.
Request a Repair Service
Whether we installed your electrical or not, Clarke Electric can help you with all of your electrical and cabling needs. Our technicians are courteous, professional, and prompt.
Contact us today to schedule a repair service.
Contact Us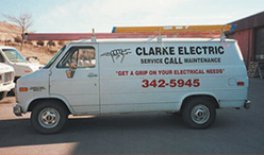 Service Area:
Proudly serving Rapid City, Sturgis, Box Elder, Ellsworth Air Force Base, Hill City, Hot Springs, Deadwood and Lead, SD.
Hours: Mon-Fri 8:00 AM – 5:00
2321 Sophia Ct. Rapid City
Clarke Electric & Communication Cabling